2014 Results
Westerly Takes Line Honours
Westerly, a Santa Cruz 70 sailing for the Royal Victoria Yacht Club was the first to cross the finish line in the 2014 Round Saltspring Race. Westerly finished at 5:16 pm, ahead of Strum, a Riptide 50 from Vancouver and Lawndart, a Santa Cruz 50 hailing from Nanaimo. Westerly started with the big boats near the end of the starting sequence but used is length and huge sail area to sail through the fleet and blast around the island in a little over 6 hours. This year's race featured consistent wind all afternoon, a somewhat favourable tide through Sansum Narrows and plenty of sunshine.
Rags Wins the Marshall Sharp Trophy
Judy Button's Rags, a C&C 115 from Ladysmith took the overall winner prize in Round Saltspring 2014 and was the Division 1 winner. Jackrabbit, Colin Nichols' CM 1200 came 2nd overall and 2nd in Division 1, and 2013 winner Ben Power on Baaad Kitty took 3rd overall and 3rd in Division 1.
Other Division winners were Ogopogo, Paul Faget's Left Coast Dart, in Division 2, Tim Slaney's Martin 242 Not Fred in Division 3, John Mortimer's Beneteau 47.7 String Theory in Division 4, Ron Turner's Tartan 37 Blue Shift in Division 5 and Anthony Zegers Kirby 25 Ducati in Division 6.
start-3-rpImp Takes the Doug Thomas Trophy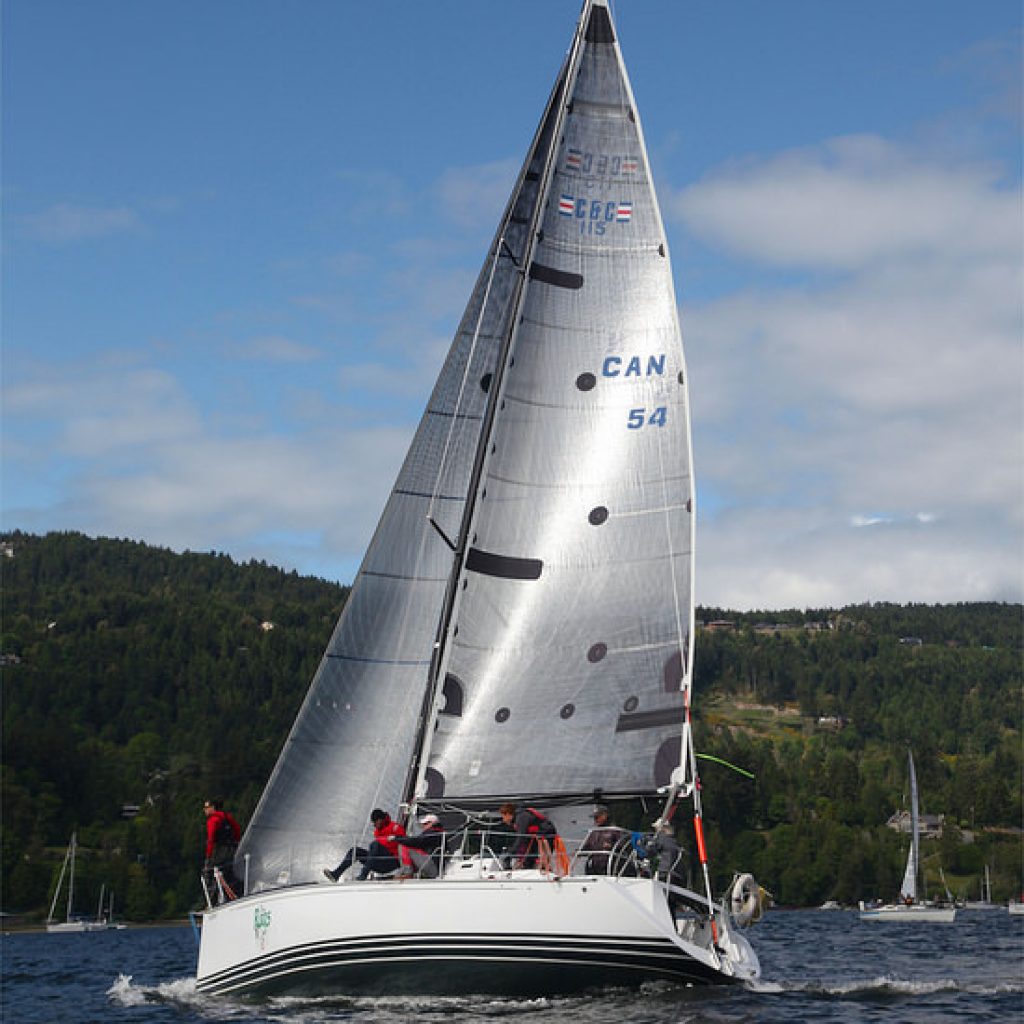 Imp Takes the Doug Thomas Trophy
The Doug Thomas Trophy for top placing Saltspring Island Sailing Club boat was snapped up again this year by Imp, coming third in Division 3. This Martin 24-1 has been a top competitor over the past five Round Saltspring races under two different skippers, with Craig Leitch taking the Doug Thomas Trophy in 2013 and 2014, after successive wins in 2009, 2010 and 2011 while skippered by Greg Slakov (who now regularly gives Martin Herbert competition in their pair of Flying Fifteens). Imp's corrected time was 07:11:19.