WHICH WAY ROUND?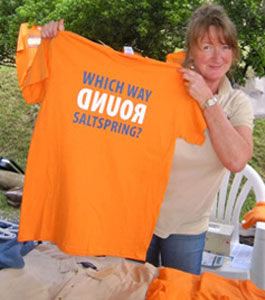 Roger Kibble muses on choosing the Round Saltspring Race direction …
Every year the Race Committee agonizes over which way to send the Round Saltspring fleet, clockwise or anti-clockwise? The decision is often more complex than at first appears.
Over the years we've mostly opted for a clockwise course in order to ride an ebb tide to Beaver Point and beyond and then catch an afternoon flood tide to sweep the boats through Sansum Narrows. But many times the wind, or lack of it, has played havoc with this plan. Sometimes the faster boats have crawled through Sansum Narrows leaving the slower-rated boats desperately trying to make some positive progress near Musgrave Landing at the mouth of the Narrows. Many a boat has anchored for hours here waiting for the tide to turn. Likewise, when in clockwise mode, many a boat has shivered in the wee hours at Captain Passage waiting for a little wind or current to help them through on the way home.
One year my son Steven and his grandfather, Commodore Wayne Pearce, were obliged to anchor at Musgrave Landing for the night after hours of fruitless tacking. They reached the finish line the next day, just a few minutes before the midday deadline! In 1992, the winds deserted us again and the fastest boats were marooned in holes, swept back by turning tides and even overtaken by much slower vessels. That year only one boat, Tigger J, a C&C 38 then owned by Art Jones, made it to the finish. Somehow they overcame the windless Sunday morning and drifted over the finish line with less than an hour to spare, to great applause I might add.
In 1993, the Race Committee chose an anti-clockwise direction because the ebb tide was unusually early and certainly would have stopped most boats for a long time at Sansum Narrows. We all made a classic windward start in a brisk southeasterly breeze up Ganges Harbour and through Captain Passage before turning and roaring before the wind down Trincomali Channel. Then the wind started to fade and the fleet stretched out for a long way. I was sailing Beowulf, my classic full-keeled Marieholm with two young daughters. We couldn't keep up with the likes of Charles Sutcliffe's Yeoman and Bas Cobanli's Haereticus, who had stormed ahead, passed Maple Bay and vanished into the far distant Sansum Narrows. Hours later, after waiting for the slack tide, we skulked through Sansum only to be dumbfounded on seeing the entire fleet in front of us, becalmed at –  you've guessed it – Musgrave Landing. Our momentum actually enabled us to drift by a few of the leaders before we joined the stationary fleet. When a few wisps appeared, the race started all over again and we slowly tacked our way up past Fulford, continued to Beaver Point in a strengthening wind and then, in a full gale, we closehauled our way past the Channel Islands and home to an astonishing two-minute victory.
So the best laid plans are often outfoxed by the vagaries of Saltspring's petulant wind and current. The Race Committee is always mindful to choose the direction most likely to prevent the higher-rated boats from being stymied by the tide no matter what wind is forecast. Although the Race Committee closely monitors the Marine Weather forecast, the famous Saltspring Island microclimate often generates obverse wind conditions than forecast so local knowledge plays a key role in the race direction decision.
Deciding which way to go is often more of an art than a science. Some say we should just toss a coin! This dilemma prompted me to reconsider the whole question from another point of view, in verse. With some trepidation I present it to you below.
Clockwise or Anti-Clockwise
(or the Round Saltspring dilemma)
Clockwise or anti-clockwise that is the Question –
Whether 'tis Nobler in the Boat to suffer
The Winds and Currents of outrageous Sansum,
Or to take arms against a Sea of Troubles,
And by anchoring, end them; to ebb, to flood –
No more, and by a Flood we pray to end
The heartache, and a thousand lateral Tacks
That Sailing is heir to; 'tis a Consternation
Devoutly to be missed, to ebb, to flood,
To flood, perchance to dream; ay there's the Rub,
For in that Flood of Seas what Dreams may come,
When we to Victory round this Island sail
To gain Applause. There's the Respect
That belays some Sanity on so long a Voyage,
For who would bear the Holes and Traps of Tide,
The Port Tacker's Wrong, the Proud Skipper's Oaths,
The Bangs of Boom above, the Sheets Astray,
The Arrogance of Novice, the Burn of Line
On impatient Hand th'Unwary takes,
When the Skipper himself might his Quietus make
Below with a Big Brandy? Who would such Burdens bear
To grunt and sweat in midnight air with laboured Breath,
But that the Thread from Fernwood to Atkin's Reef,
The unmarked Rocks from whose Grasp
No Voyager returns, puzzles the Crowd Ashore,
And makes us rather bear those Ills we have
And even overcome Perils we know not of?
Thus Round Saltspring makes Heroes of us all;
And thus our Native Annual Resolution
Is once more over with the Pale Cast of Thought,
That without the Clockwise Course Direction
And with hindsight Regard to Currents turned awry,
We might have found the name of Action
If only we'd gone the Other Way!
— By Roger Kibble
(with kind permission from Commander William Shakespeare)